Situated off 360 and Ragland on the border of Grand Prairie and Mansfield is Loyd Park – the getaway close to home yet delightfully far from the ordinary. Owned and operated by the City of Grand Prairie, this park is so well-maintained that even Mother Nature would give it two green thumbs up!
Let's talk about campsites. There are over 200 of them, and some are equipped with all the bells and whistles an RVer could dream of, including sewer connections. Others have water and electricity, which is great because you're not going to charge your gadgets with a fishing pole, are you? But if you're truly lucky, you might snag a waterfront site. Fishing, swimming, and tying up your boat near your campsite? It's like a watery wonderland in your own backyard.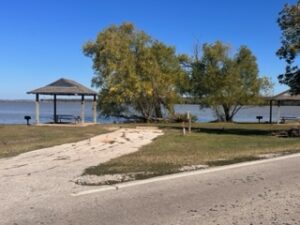 But wait, there's more! Lloyd Park is a veritable playground for grown-ups and kids alike. They've got pavilions and kayaks for rent, a swimming beach for those who'd rather get sand in their swimsuits than in their sandwiches, a camp store for when you inevitably run out of marshmallows, and a playground for the little ones (or you,  I'm not here to judge).
Now, the real hidden gems here are the Walking Trails. Not only can you get your steps in, but you might even get lost on your journey. You can start your adventure from various points along the park road, and some of these trails are so long they give "a true sense of isolation." Not exactly what you had in mind for a quick weekend getaway, right?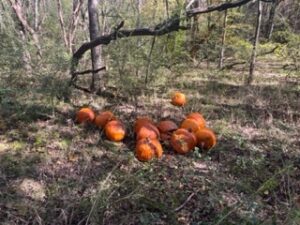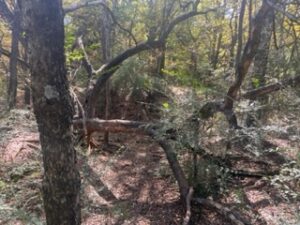 A few years ago I set up a girl's weekend with two of my favorite humans, my BFFs, Gentry and Meranda. I was ready to prove I had this RV game on lock. "I am woman, hear me roar!" I declared. Towing? Piece of cake. Backing it into the campsite? Well, that was a bit more challenging, with 17 attempts and Meranda's valuable assistance. But hey, we got the job done. Eventually.
The adventure didn't end there. We set off on a leisurely walk, assuming we'd be back before sunset. But an hour later, the sun started its descent, and the trail seemed never-ending. Panic mode engaged. Were we stuck in the great wilderness forever?
Finally, the trail spat us out in a campground area, but it looked…different. RVs had porches, decks, and potted plants. Someone called out to us, "You look lost!" Well, duh! We were in the exclusive area where park rangers and camp hosts lived full-time. We were politely informed of our location, which was basically at the front entrance. Our campsite? Oh, it was way in the back.
So we took the long way back, sticking to the main road. It was a long walk But hey, we got our steps in that night, and that's what truly matters, right?
Yesterday was like winning the weather lottery in November, here in Texas. With temperatures in the glorious 70s, I had just finished an engagement in Mansfield and thought, "Why not seize this golden opportunity to enjoy the great outdoors?" So, off I went to the park for a leisurely stroll.
The park and campsites were as quiet as a library during nap time, which meant the trails were deserted. Naturally, I snapped photos along the way, thinking it would be a crying shame not to share the awesomeness of this place with anyone who might not be in the know.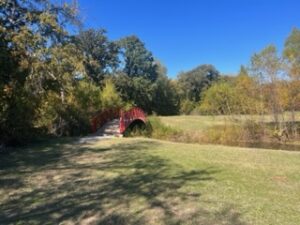 Before you embark on your own adventure, let me share a few pearls of wisdom, or as I like to call them, the "Do's and Don't's" of Lloyd Park:
DO – Go out and explore. This place is like a treasure chest of natural beauty just waiting to be discovered.
DO – Take water with you. It's November, sure, but Texas doesn't play by the usual rules. You'll be grateful for that H2O.
DON'T – Panic if you start to feel a bit disoriented on the trails. Just keep walking, and you'll eventually stumble back onto the road.
DO – Consider wearing longer pants because those sticker burrs mean business. 
DO – Plan your walking gear better than I did. Note to self: a black sweater wasn't the smartest choice for a walk in nature.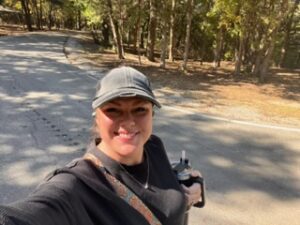 So there you have it, my fellow adventurers. Lloyd Park is your oyster, just waiting to be cracked open and savored. Take these simple tips to heart, and you'll be well-prepared to enjoy the tranquility and beauty of this hidden gem right in our own backyard. Happy hiking and camping, my friends!
Musical Pairing – Dire Straits, Walk of Life